Questioning: Peter Singer & Ruby Peer
19 August 2021
Jewish Museum of Australia
This series of talks pairs prominent figures with young and emerging voices for a bold and rigorous discussion of aspects of Jewish identity. Highlighting a diversity of viewpoints and allowing space for questioning, doubt and exploration, this discussion series aims to both interrogate and illuminate what it means to be Jewish today.
Join ethicist Peter Singer and youth leader Ruby Peer in conversation atheism, altruism and reckoning with Jewish identity.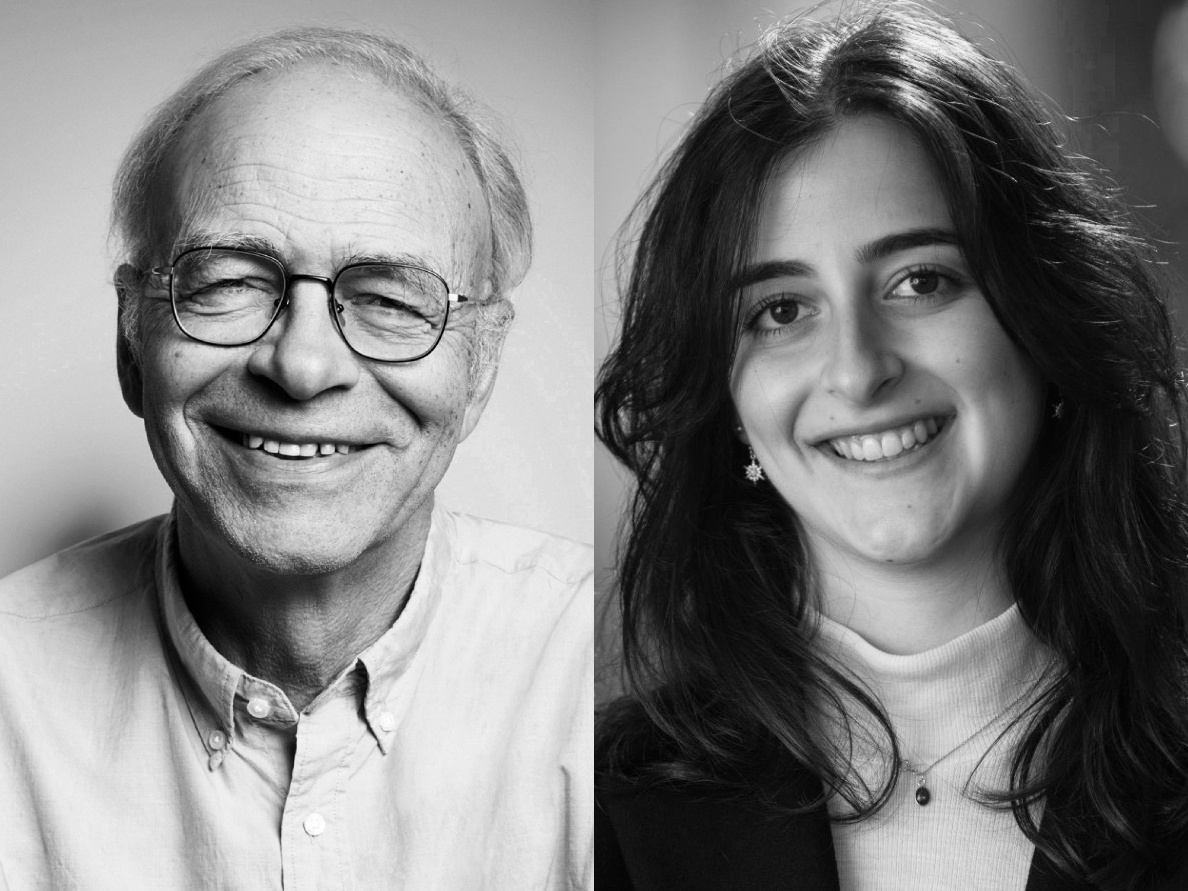 Peter Singer
Peter Singer was born in Melbourne, Australia, in 1946, and educated at the University of Melbourne and the University of Oxford. Since 1999, he has been Ira W. DeCamp Professor of Bioethics in the University Center for Human Values at Princeton University. He first became well-known internationally after the publication of Animal Liberation in 1975. His books include Practical Ethics; The Expanding Circle; How Are We to Live?, Rethinking Life and Death, Ethics in the Real World, Why Vegan? and, most recently, he has edited a new edition of what may be the world's earliest surviving novel, The Golden Ass, by Apuleius. Singer's book The Life You Can Save, first published in 2009, led him to found a non-profit organisation of the same name which has raised more than US$35 million for the most effective charities assisting people in extreme poverty. In 2012 he was made a Companion of the Order of Australia, the nation's highest civic honour. Since 2021, he has been a co-editor of the Journal of Controversial Ideas.
Ruby Peer
Ruby is a final year Arts (Politics/Economics) student at the University of Melbourne. She works as an educator at Shira Hadasha and at the United Jewish Educated Board, teaching at over ten schools across Melbourne. In the past three years at Hineni Youth & Welfare, she has led the federal executive committee, planned and executed three leadership seminars and is now treasurer responsible for the organisation's budget and financial future. She is passionate about politics, writing and exploring ideas through reading and debate. She enjoys meeting and developing authentic relationships with people on a mission to make the world a better place. As the Susan Wakil fellow, she is developing a team social impact project relating to food sustainability.
Cost
$30 Non-member
$25 Museum member
$15 Under 25s